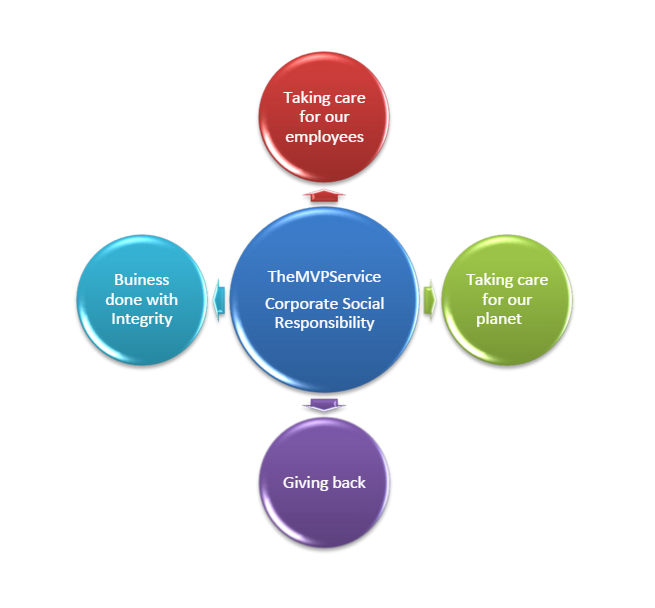 TheMVPService, LLC
Corporate Social Responsibility
Responsibility starts at the top.  TheMVPService is a small privately owned company.  Yet we  understand and take responsibility for the effects our business activities have on people and the  environment.  We strive to make conscious choices in order to find a balance between people, our  planet and profit.  Our business decisions are made with compliance to legal standards & licensing,  commitment to biblical principles and respect for people both internally (our staff) and externally  (our customers and stakeholders).
Taking care for our employees
Assuming ownership is truly engaged and sincere about doing the right things; employees transfer  that to customers.  Employees deliver.  At TheMVPService we create an environment within which  employees can thrive; where they are empowered to deliver exceptional service to our customers.  There is considerable conversation regarding medical coverage and benefits.  We provide that to  our staff even though we are not required to; and we pay 95% of the cost for the employee.  It is  benefits like medical and 401k along with a daily effort to treat employees right that allows us to  find and retain the best in the industry.
Taking care for our planet
While TheMVPService is a small company; taking care of our environment is up to each of us;  personally and corporately.  At TheMVPService, LLC we actively strive to:
Create, transmit and store as much paper as we can electronically.

We are working towards a totally digital contracting process.

Recycle.

Use water dispensing 'jugs' rather than plastic water bottles.

Use motion sensors to turn off electricity when not needed.
Yes, much of the above is small.  But we are small and we should do our part no matter the size.
Business done with Integrity

  
Integrity, ethics, honesty – words used often.  We adhere to them at MVP and believe in them.  Infact; we doubt the sustainability of any business that does not rightly treat its customers and  employees.  We believe in the products we sell and use all of them on a regular basis for our family.  We believe in:
Vacations for all families on a regular basis.

Timeshare as an excellent way to vacation.

RCI Platinum points, Interval CIG (Club Interval Gold) and MyMVPCollection.
We certainly are not perfect; but we want to be in the eyes of our God and our customers.  We are  open and available to anyone; we desire feedback and want to be the best timeshare broker you  know.
Privacy and Security
More and more today; companies have access to very personal and private information.  From  emails to phone numbers all the way to credit cards and other sensitive information.  We take that  very seriously at MVP.  Here is how we intend on protecting any information we have;
We will NEVER share your information with anyone.  

We do not retain credit card information. We cannot lose what we don't have.

We protect the data we do have with the highest integrity; both from a hardware   

configuration as well as password and encryption technology.

We only give access to sensitive information to staff that need it.
Giving back.
We have been very blessed at MVP.  We strive to give something back as a thank you.  A portion of  ALL income at MVP goes to directly support our local church as well as Emanuel University.  Emanuel is the only evangelical university in eastern Europe and is largely funded from charitable  contributions.  The Principals of MVP have been personally involved with Emanuel University since  2003 and participate as well as contribute to the teaching and needs of the university.